The regulator wants asset managers to define more clearly the value they provide to their investors. Square Mile explores what they need to consider.
The definition of 'value' in fund management has come under considerable scrutiny in recent years. Increasingly, regulators are demanding that asset managers have a clear definition of the value they provide to investors. Initially, it looked like this may be a narrow cost-based definition, but recent guidance has seen that broaden out.
The concept of a value assessment emerged from the FCA Asset Management Market study in 2018: this proposed certain changes to the structure of open-ended funds, including the appointment of a minimum of two independent directors (making up at least 25% of the board). It also stated that fund managers should start to provide an annual assessment on 'value' to this newly independent board.
Since that point, there has been considerable debate on how 'value' should be defined. In January/February 2019 Square Mile and Boring Money conducted some market research with the aim to provide asset managers with an independent third-party view on how to assess and measure value. We asked consumers, advisers, investment trust directors, the regulator, service providers and academics for their version of value.
The FCA already has its version. It defined seven elements in its non-exhaustive list: quality of service, performance, general fund manager costs, economies of scale, comparable market rates, comparable services and classes of units. In our discussions with the FCA, we found that there were also a number of key questions that the FCA wanted asset managers to think about from the clients' perspective:
What do I get charged?
Can I see what I pay for?
What simple indicator do I have that will tell me what this fund is trying to do and what it will achieve?
What are the upsides and downsides?
Am I paying more for a choice that I've made and when I've made that choice can I understand it?
In our view, the regulator's primary concern is that competition is not working efficiently in this market. If investors cannot clearly understand whether a fund is meeting its objectives, how can they compare and shop around? We don't believe that the primary objective of this project is to impose a blanket reduction in fees, but for managers properly to consider if a fund is delivering value for its customers on an objective analysis.
The FCA doesn't want a tick-list, which is why it hasn't been prescriptive about the rules. In doing so, we believe it is pushing the industry to raise the bar on reporting. The FCA is trying to encourage competition on how the industry displays the information. This should bring about better standards overall. A single metric is unlikely to do the job effectively and the FCA recognises this.
The Square Mile research suggests that there are four pillars of value that need to be considered: specifically – performance, cost/price, clarity and service. End investors care about the level of charges, performance compared to cash and also to similar funds, delivery versus expectations, trust in the manager and easy-to-understand documents and communication. The most important element? Returns are better than keeping money in cash.
Each fund management group will have its own interpretation of the rules, but we believe that they are asking groups to be clear about what they expect a fund to achieve and then how they have delivered against that expectation. This doesn't lend itself to a formulaic approach.
There are two key areas that fund groups will need to address: fund costs and performance. Fund costs are difficult for investors to understand and not always easy for managers to articulate with clarity. The asset management industry mostly focuses on OCF, or an equivalent. We believe that merely looking at a fund's OCF does not present the full picture. We think asset managers should assess and compare the OCF and its components, plus transaction costs. It should be good practice for managers to show the total cost of investment (TCI) and performance calculated shown net of TCI.
On performance, our research findings suggest that funds should demonstrate that over an appropriate time period they are worth paying an active fee for, relative to a passive alternative. They also need to be measured on criteria that reflect a fund's specific objectives and investment style. Managers should present their credentials in the clearest possible way, reflecting on the retail investors' desire for the use of simple and understandable comparators.
The quality of the independent directors who are appointed to oversee these value assessments will be important. The investment trust sector has proved that it can work in practice, with investment trust boards increasingly acting in the interests of shareholders and independently of the fund management companies.
In this way, the value assessments could prompt an important cultural shift within the industry. The asset management industry is being asked to make sure it delivers from the perspective of the recipient, removing any lack of clarity, promoting better governance and outcomes. This can only enhance the reputation of the industry over the long-term.
"Each fund management group will have its own interpretation of the rules, but we believe that they are asking groups to be clear about what they expect a fund to achieve and then how they have delivered against that expectation. This doesn't lend itself to a formulaic approach."
Square Mile has taken the output of the market research and in conjunction with feedback from AFMs, the requirements under Fund Objectives (CP18/9 and PS19/4) we have combined this with our own analysis to develop a template and service designed to support/inform asset managers' value assessment. We have developed a methodology and service which analyses funds and value in two specific areas: cost/charges and performance. This analysis can be tailored to support an individual asset manager's own value assessment process and is designed to provide independent input and analysis.
Steve Kenny, Director, Square Mile
To access Square Mile's latest research, please register at squaremileresearch.com/funds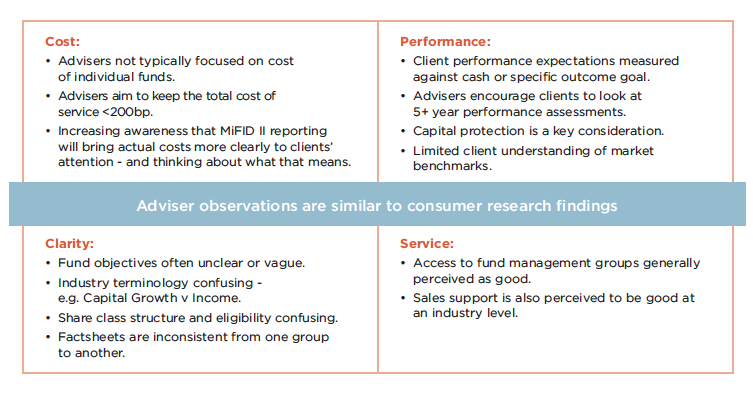 Article taken from Hub News Issue 42.