---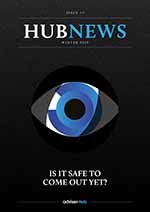 Is it safe to come out yet? January has proved a better start to the year than many were expecting. That said, many asset allocators are still debating whether these are the dying days of the bull market, or whether markets can continue to forge ahead in 2019.
There are plenty of political roadblocks. Trump may have been defeated in his bid to build a wall on the Mexican border, but he remains fully engaged in his trade war with China, much to the irritation of global stock markets. Brexit looms for all UK investors, though the end game is approaching. Europe has its own problems. At the same time, growth is slowing across the world.
However, there are also reasons to be cheerful: if growth slows, it may slow US interest rate rises, which would be welcome. Inflation remains benign and recession appears to be some way off. Corporate earnings continue to be relatively robust.
In short, it could go either way and investors must prepare for all eventualities. In this quarter's issue of Hub News, we look at today's situation from a number of different perspectives – Richard Turnhill of BlackRock gives his base case for the year ahead; Janus Henderson's multi-asset team also discuss how the year is likely to evolve. Fidelity gives its views on the unwinding of quantitative easing and the impact that is having on all markets.
M&G discusses impact of a different kind, as it introduces its Positive Impact fund, while Square Mile discusses the good and bad in the global equity income sector. We also hear from Neptune on emerging markets and LGIM on drawdown. As always, we hope it brings you new ideas for your clients' portfolios and a steer when navigating the year ahead.
We welcome your comments and suggestions for Hub News and every other aspect of the Adviser Hub service.
-
Cherry Reynard
Editor
Latest News
Upcoming Events
Weekly Market Updates
Latest Business News 2019