Hub News magazine #42 Summer 2019
---
LATEST ARTICLES
Defining value for fund managers - Square Mile Research
Millennials: Tomorrow's Investors - First State Investments
---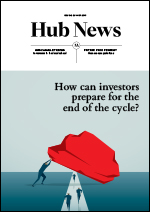 It's time to get creative. Markets may have been buoyed by the recent change of heart from the Federal Reserve, but it feels like a last hurrah. Economic figures are weakening: China recently reported its slowest growth numbers in almost 30 years. Markets have a distinctly 'end of the party' feel.
There may still be more room for equity markets to rise and there can be a cost attached to missing the last few months. Research from RBC group showed investors lose out by, on average, 19% by missing the last six months of a bear market and as much as 29% by missing the last year. However, there can be little doubt that advisers need to be thinking more strategically about where to put their clients' assets in this environment.
With that in mind, this month's Hub News looks at a range of options. Ned Naylor-Leyland, manager of the Merian Gold & Silver Fund, offers four ways to think about gold. Others consider areas of structural growth: Amanda O'Toole manager of the AXA World Funds (WF) Framlington Clean Economy Fund discusses how she invests in companies benefiting from the long-term structural trend of clean economy solutions, while Schroders' Charles Prideau and Keith Wade highlight the 'inescapable truths' of the global economy.
It is a time when asset allocation decisions become more important: Baillie Gifford, Invesco and Fidelity International talk about how their teams are handling the new environment, while M&G Investments discusses its new sustainable multi-asset option. The pressure is on for fund managers to show they are delivering value: Square Mile talks about how they can evidence that in the face of new FCA rules.
As always, we hope you find it an illuminating and insightful read. Please send any thoughts or feedback to: enquiries@adviser-hub.co.uk
__
Cherry Reynard
Editor
---
Latest News
UPCOMING EVENTS