Hub News magazine #44 Winter 2020
---
ARTICLES FROM ISSUE 44
Absolute return funds failing to deliver - Square Mile Research
Be bold and prepare for binary outcomes in 2020 - Investec Asset Management
---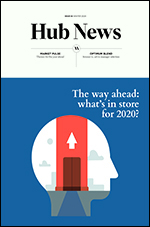 There is a different feel in the air at the start of 2020. Perhaps it is the end of a year when markets have confounded expectations, with bonds and equities seeing sharp rises. Perhaps it is the prospect of meaningful change with new faces at the world's central banks, progress on Brexit, even a new US president. Either way, it feels like the world may be taking a new direction.
In this quarter's edition of Hub News, sponsors and partners give their views on the likely outlook for the year ahead. After a year in which almost all asset classes have seen strong gains, which can continue to make progress in 2020? There are few supporters for fixed income, but John Riccardi of the Merian Global Dynamic Allocation fund argues that equity valuations aren't stretched and there are still plenty of opportunities.
However, there is still considerable debate on where these opportunities lie. Will the small revival in value shares continue? Will the UK build on its strength in the final quarter of 2019? Will equity markets continue to be driven by broad macroeconomic considerations or will stockpicking come to the fore? If so, could it finally be the year for Absolute Return funds? Charles Hovenden of Square Mile reserves judgement in his piece on page 22.
One trend that is definitely here to stay is the increasing importance of environmental, social and governance factors when managing money. Ben Constable Maxwell explains how M&G are integrating ESG criteria across all their funds. Expect more and more fund managers to follow suit in the year ahead.
As always, we hope you find it an illuminating and insightful read. Please send any thoughts or feedback to: enquiries@adviser-hub.co.uk
__
Cherry Reynard
Editor
---
Latest News
UPCOMING EVENTS