Hub News magazine #48 Summer 2021
---
---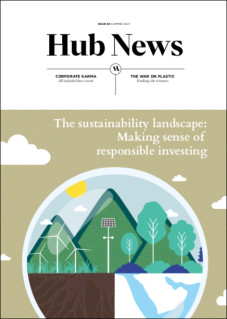 This month's issue of Hub News arrives against a more positive backdrop for the global economy. With the vaccine rollout underway across the globe, the recovery in the world's major economies has outpaced expectations.
However, this recovery has come with a sting in the tail as inflation numbers from the US hit levels not seen for more than a decade. To date, markets have chosen to believe the Federal Reserve narrative of transitory inflation, but it is finely balanced.
This has changed the mood in markets. The 'value' revival seen since the start of the year continued until relatively recently, but has lost some vigour. More recently, markets have been in a holding pattern, with investors waiting to see how the next few months pan out.
This month's Hub News has a distinctly 'green' theme to it, with Schroders, M&G and Square Mile looking at how investors can navigate sustainable investing today. M&G tackles climate change, while Schroders look at the concept of 'corporate karma' – why companies need to look after all their stakeholders to build success.
Elsewhere, Baillie Gifford discusses the strategy on its Managed fund, fresh from its best-ever year of performance, while Ninety One looks at income options in an income-starved world.
As always, we hope it gives you food for thought in these complex times. Please do share any comments or ideas with us on: enquiries@adviser-hub.co.uk
__
Cherry Reynard
Editor
---
Signup to Hub News Magazine
---