Hub News magazine #45 Spring 2020
---
---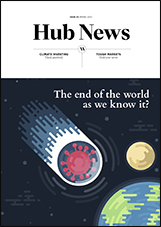 This magazine hits your desks at a time of global uncertainty. As it stands, even the brightest minds are debating the likely impact of the coronavirus both on humankind and on the global economy. Much of this magazine was written before the virus wreaked havoc on financial markets. It feels like a long time ago now.
Nevertheless, many of the themes in this magazine are timeless. Investing sustainably will not be derailed by the coronavirus. In fact, it may become more important as it has become clear the speed at which companies with poor business models can be derailed by a rogue incident. Those companies with excessive debt, poor products, irresponsible practices have been found out.
Equally, it has once again demonstrated the power of diversification. It is a reminder than it is impossible to quantify every risk and assess its impact. Those holding a range of assets and bringing in appropriate checks and balances to a portfolio have fared far better through the market sell-off.
Inevitably, it appears, the next few months will be tough, but advisers have weathered these crises before and will weather them again. It is when the advice community really earns its spurs, keeping people invested through tough times, preventing them making silly mistakes and, most importantly, preserving their long-term wealth.
As always, we hope you find it an illuminating and insightful read. Please send any thoughts or feedback to: enquiries@adviser-hub.co.uk
__
Cherry Reynard
Editor
---
Signup to Hub News Magazine
---
Latest News
UPCOMING EVENTS