Hub News magazine #43 Autumn 2019
---
ARTICLES FROM ISSUE 43
Thematic Investment: What is thematic investing and why should investors care? - Schroders
Asia Income: Asia the next dividend powerhouse - Fidelity International
Sustainable Investment: ESG setting the scene - Square Mile Research
---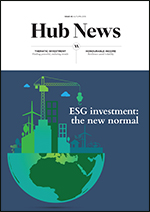 Climate change is being discussed everywhere, from the corridors of government to the streets of London. Those companies with poor environmental records are increasingly exposed, which matters for their share price. As such, it is becoming an increasingly pressing issue for investors.
Fund management groups recognise the urgency, but also the opportunity. Companies that score highly on environmental, social and governance criteria tend to perform better over time. As such, there should be a chance to add value by finding them.
No longer a sideline, advisers have an increasing range of options for investments in this area. In this month's Hub News, Square Mile and LGIM look at how advisers might go about selecting them and the risks inherent in doing so. We also showcase new funds coming to market, including the Aviva Investors Sustainable Income and Growth Fund.
A focus on ESG is just one way in which markets are becoming more thematic. There are a number of pressing global trends that are increasingly difficult to ignore. Schroders discusses how an awareness of these factors informs its stockpicking, helping it target new and exciting companies, while avoiding those likely to be disrupted.
We also tackle subjects as diverse as China, Asian income, emerging market bonds and the importance of the millennial pound. The team on the Investec Diversified Income Fund explains why protecting against falls can be just as important as generating high returns, while Invesco discusses its new model portfolio service.
As always, we hope you find it an illuminating and insightful read. Please send any thoughts or feedback to: enquiries@adviser-hub.co.uk
__
Cherry Reynard
Editor
---
Latest News
UPCOMING EVENTS