Hub News magazine #41 Spring 2019
---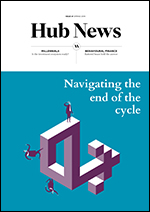 Markets have turned on a sixpence since the start of 2019. The markets have casually set aside ongoing trade tensions, weaker economic data and geopolitical tensions, and have made progress against all expectations. Emerging markets have been particularly strong as investors concluded that valuations more than reflected the inherent risks.
Is this new-found confidence a sign that markets can continue to run further, notwithstanding the length of the bull run? It would seem that the party can continue a little further, even if it is with a little less vigour. The Federal Reserve's pause on interest rates has buoyed up market confidence and earnings have kept pace. Valuations don't look particularly challenging and, with cash rates still low, investors still have few alternatives.
This month's Hub News discusses opportunities in this directionless environment. Justin Oneukwusi at LGIM looks at the important considerations for investors in this late cycle environment, while John Weavers, manager of the M&G North American Dividend Fund and Chris Murphy, manager of the Aviva Investors UK Equity Income Fund discuss the role of dividends. Bill McQuaker, portfolio manager, Fidelity Multi Asset Open range, looks at whether the party is really back on, or whether investors should be more circumspect.
As always, we hope you find it an illuminating and insightful read. Please send any thoughts or feedback to: enquiries@adviser-hub.co.uk
-
Cherry Reynard
Editor
---
Latest News
Upcoming Events
Weekly Market Updates
Latest Business News 2019